The Extra Mighell - July 17, 2020
Technology and Assorted News, Among Other Things
Welcome to issue #14 of The Extra Mighell!
The links here represent the stories of the past week that I found interesting or noteworthy in addition to what I cover on the blog - that's why they're "extra."
There are a couple of themes to this week's newsletter - first, a lot of stories about meetings, a lot of fun links, and I use the word "cool" way more than is appropriate.
Meetings
High Fidelity is one of the coolest things I've seen in a long time. Described as "online audio spaces for virtual gatherings," it's a new way of meeting with people online. It uses spatial audio so that you can actually walk up to another avatar/person and talk to them, and then walk away from them and they don't hear you talking any more. The user interface is a little primitive, but the audio capabilities are amazing. Instead of Zoom, give it a try at your next virtual Happy Hour!
On the heels of my announcement last week that Lenovo is making a Microsoft Teams smart device comes word that Zoom is doing the same, but even cooler; Zoom for Home is a 27" monitor from which you can attend all of your Zoom meetings, freeing up your computer for other work stuff. A 27" monitor for $599 is not too bad, but this is really only for those who are limited to Zoom. I for one have to use whatever service my clients are using, be it Zoom, Teams, Skype, Bluejeans, or some other service. What I'd really like to see is an all-in-one WFH device that could handle all of these services. -[TechCrunch]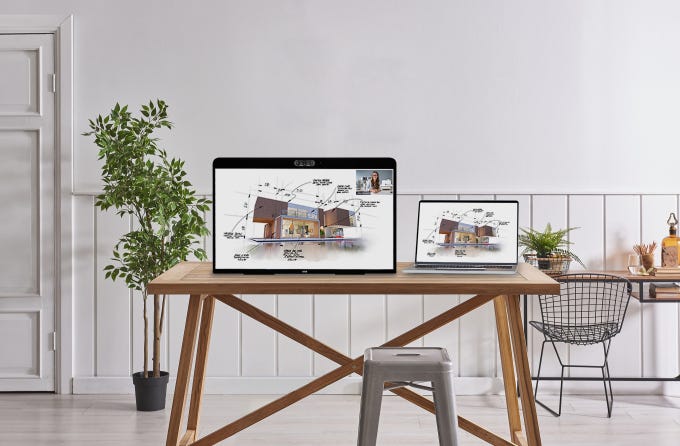 Speaking of the fact that everyone's using a different tool to meet with us, NextCall is a nifty Chrome extension that aims to show your "next call," no matter which service it's on - Teams, Zoom, Google Meet, or Skype. Just click the Join button and you can open up any of these meeting tools.
And if you're looking to make your meetings more interesting and visually friendly mmhmm is here to help. Currently in beta preview and invite-only, the product creates more of a news broadcast-style display for your online meetings. Watch the video to learn more:
Security
It's probably not news to you that someone hacked the Twitter accounts of a lot of famous people Wednesday. What might be news to you is that the hacker was able to do it by convincing a Twitter employee to help in the hijacking. That's why, for probably the first time ever for a hack, users weren't asked to change their passwords or enable two-factor authentication - although it's always a good idea to do both. [The Verge/Motherboard]
I've mentioned some of this in past newsletters, but if you're any kind of user of Google services, it's nice to have it all in one place: How to set your Google data to self-destruct. [New York Times]
And on the reverse side of security, check out the Atlas of Surveillance; it's a project from the Electronic Frontier Foundation to document surveillance technologies deployed by law enforcement in communities across the United States - including drones, body-worn cameras, license plate readers, facial recognition, and more. It's a work in progress, and you can help contribute if you're so inclined.
Internet
If you listen to podcasts, and you're also a Spotify subscriber, you might want to take a look at two new podcast playlists that are rolling out this week: Top Podcasts, which features the top 200 most enduring podcasts based on listeners, and Trending Podcasts, which charts an algorithm-driven ranking of 50 "of the moment" podcasts. [Techhive]
Productivity
I'm a big fan of the Outlook mobile app, especially for those who use Office productivity tools in general - to me it's just a no-brainer. So it was great to see that Microsoft is getting ready to roll out a bunch of time management features to Outlook, including the ability to join meetings with just one tap, adding your personal calendar to your work account, a new "Play my Emails" function, and many more. Even if one or two of these appeal to you, your email experience will be better. [Thurott.com]
If you use Grammarly, or you're a Google Docs user in need of a proper grammar tool/spell checker, Grammarly is now coming to Google Docs. [Android Central]
Fun and Games
We are heavy on the fun this week - because it has been a week, amirite?
If you're tired of looking out the same window day after day, check out Window Swap. It features 10-minute videos of the view out another window somewhere else in the world - in just a few minutes of browsing, I found myself looking out windows in the Philippines, Twickenham (UK), Jakarta (Indonesia), Obersteinabrunn (Austria), and Rochester, New York. Strangely relaxing.
For me the coolest thing about Amazon's new smart shopping cart is that you can pull up your Alexa shopping list right on the cart while you're shopping. I know, I get unreasonably excited about geeky things. [The Verge]
Bear with nunchucks. That is all.
And finally, you will either love me or hate me for sharing this, but if you haven't seen Hamilton yet, or can't get enough of it, try this - Hamilton Act 1, But it's Muppets:
See you next week!
— Tom